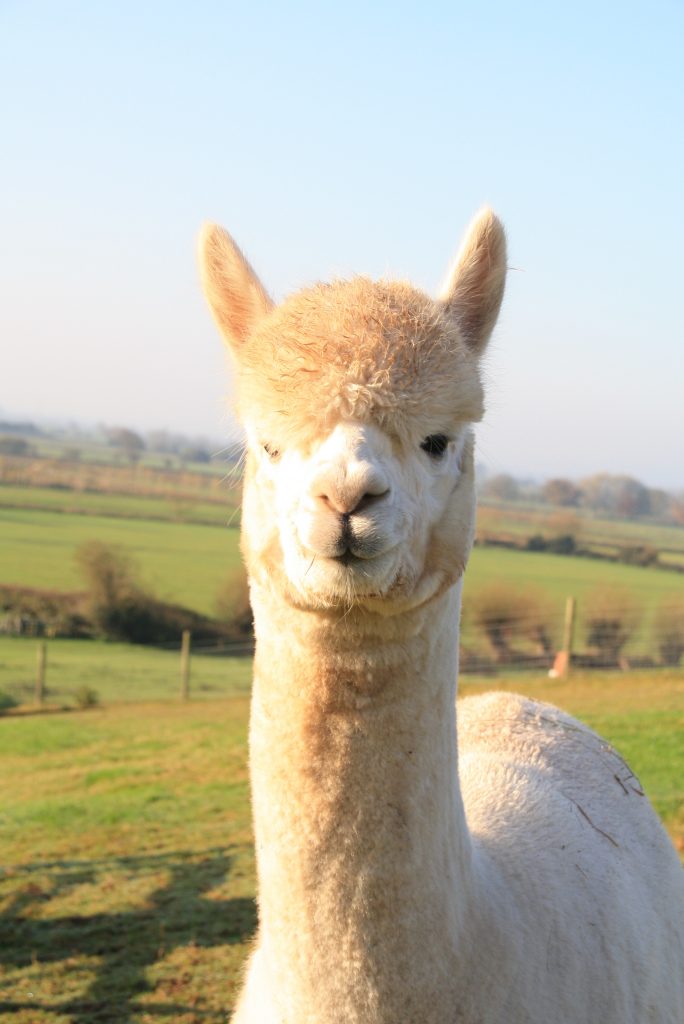 As I write this (Dec 29th) I have the mixed feelings of someone who has just sold two of their best and favourite alpacas - a lump in the throat beckons with the thought of missing two familiar characters each morning, but happiness that they are moving on to become part of a bigger herd across the Irish Sea, where they can find more 'work' and hopefully pass on the best of their genetic traits.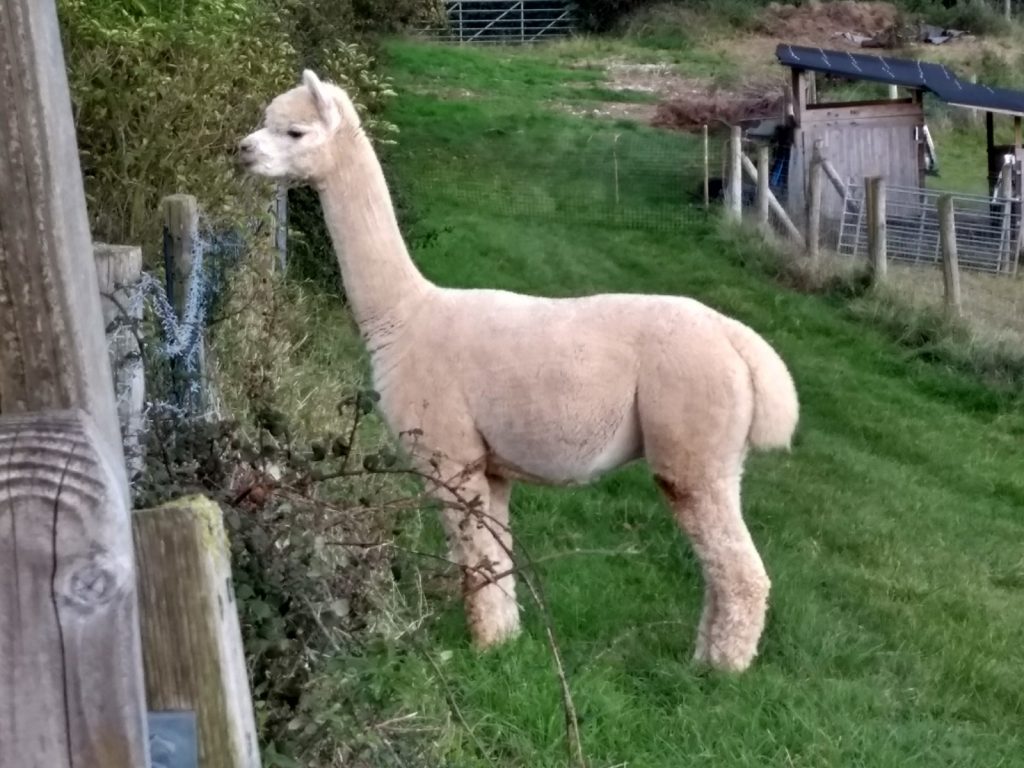 I'll return to that subject later, but back to where I left off in April: exceptional warmth and sunshine during April and May helped the grass to recover from the wet winter and early spring, although it actually baked the saturated clay too quickly, so that re-seeding was wasted as the ground hardened.
At the beginning of June the brilliant Colin Ottery sheared the herd plus some for clients, and though the preceeding days had brought showers, the improvements I had made to the main field shelter meant we could go ahead with dry animals, and then house them overnight to prevent chilling.
Two days later Apple Vale Florina gave birth at mid-day, to a black male with pretty white face markings - although quick to sit up and stand, he was down on his pasterns and unable to stand to suckle, so in the early evening we intubated plasma to ensure that he got sufficient anti-bodies to protect against infections, and at 9 in the evening we saw him suckling and could relax.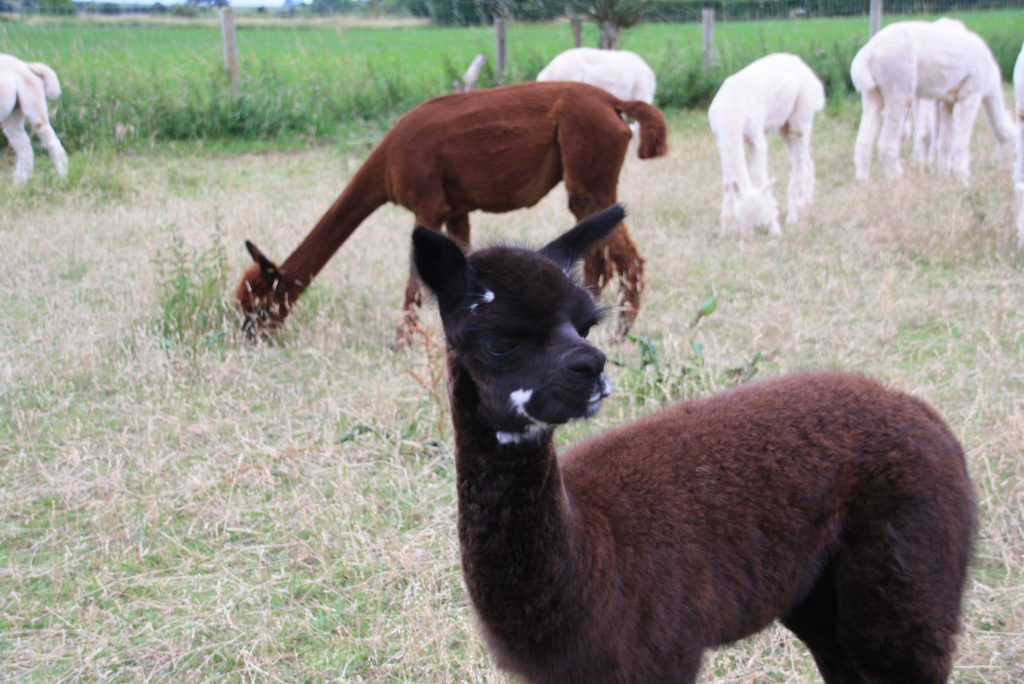 Due to the dry spring, by now the paddocks were thin on grass, the ground cracked and prairie-like, but a showery June followed by a burst of heat at the end of month ensured a recovery, though not enough to produce our own hay this year, so we traded hay in return for labour, helping to load 360 bales from our brilliant neighbour Bas' who also helped me to knock-in replacements for a large number of rotten fence posts.
Later in the summer, Florina, her cria Marble, and Kit (potential stud male) were sold to Foxhole Alpacas to help them build and develop their new herd.
At the beginning of August, Apple Vale Gala gave birth to Marianne (sire: Patou Goose), a fabulous-looking 7.4kg white female, just as 'ordered'. Despite a good start with feeding, weight-gain was slow - this was due to feeding from just two teats, and even though I expressed the other two teats on several occasions, she never really used them, and her weight-gain has been half the norm, although always upwards, and she is now over 25kg.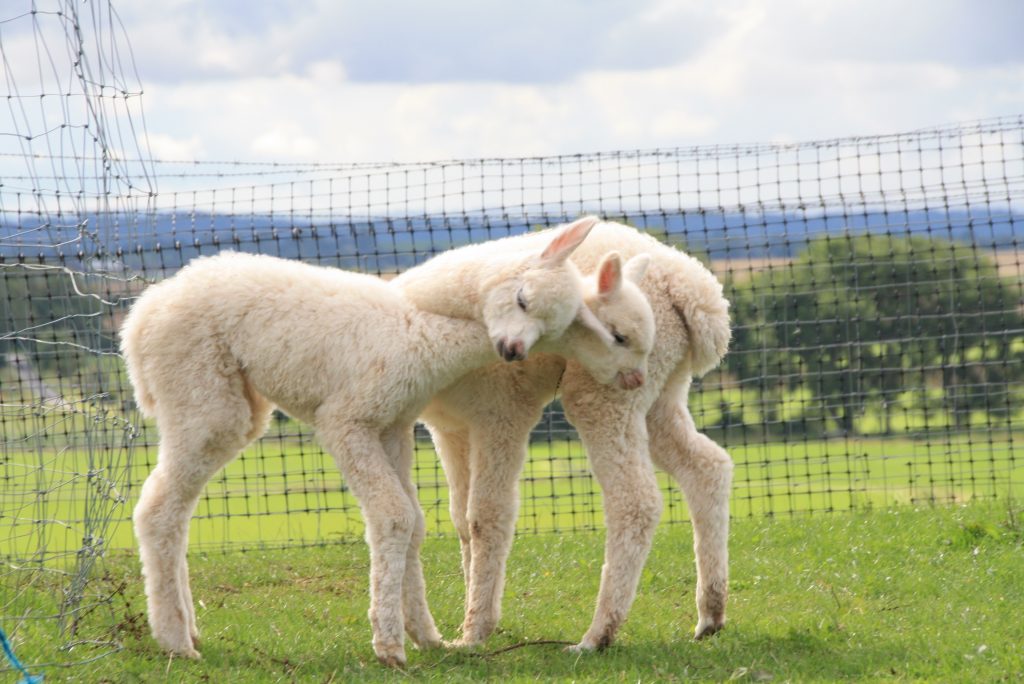 Later that week, Blossom of Redingvale Alpacas gave birth to Madeleine (Maddy), a lovely white female sired by our own Apple Vale Jupiter. A strapping 9.45kg, Maddy has thrived.
We've carried out some interesting new matings this summer, and all scanned positive in the autumn, so, fingers are crossed for healthy births next June/July.
Given the absence of halter shows, we entered a couple of fleece shows: at the Cornish Camelid Fleece Show, Apple Vale Jupiter was placed 3rd white huacaya 24-48 months in a class of 9, beaten by the eventual Supreme Champion in 1st place and Best of British Bred in 2nd place, with half a point separation in each case, scoring 84.5 points, and then at the South West Alpaca Group fleece show he came second with 84 points.
Meanwhile, the hens have been locked-down in the polytunnel due to the Avian flu' outbreak - not at all nice for them, being used to free-ranging the paddocks.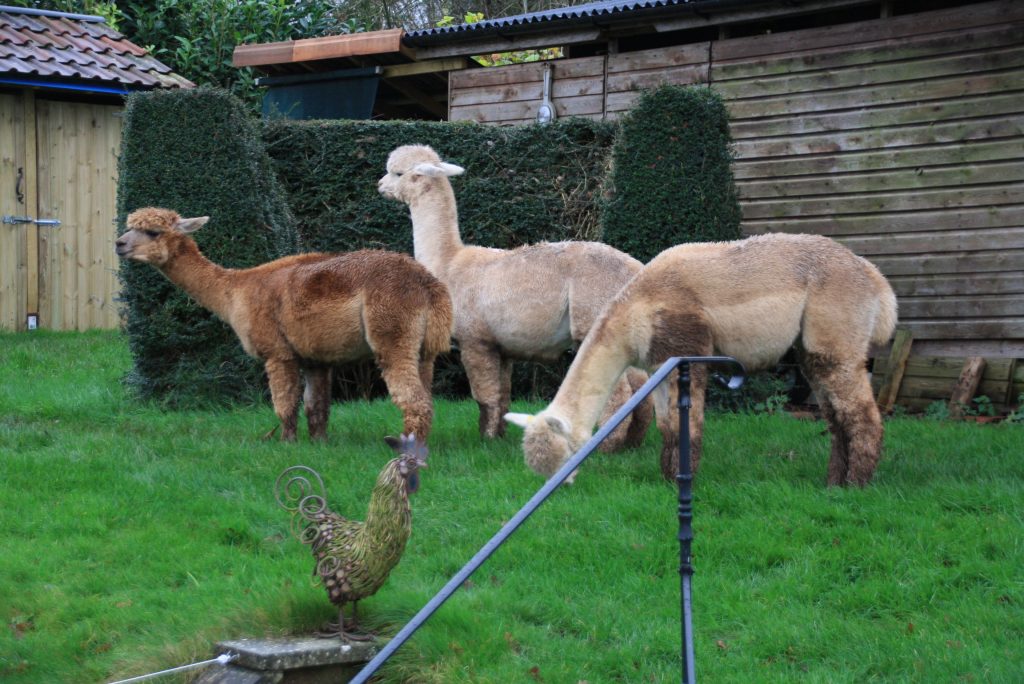 It's been a funny old year, though I'm sure you will have your own description of it - the usual calendar markers of agricultural or alpaca shows went missing, but at least as farmers we had the seasonal activities of shearing, hay-making, birthing, mating etc. to keep us slightly in tune, albeit they are all variable.
Finally, we had a sales enquiry at the beginning of December, following-up a previous enquiry, regarding our stud males - could they be delivered to the Republic of Ireland before the UK left the EU on December 31st? As a fellow exporter said to me, "we can, but we'll have to get a shimmy on"! First we had to register as an Exporter with APHA, only then could we make an application to export - meanwhile, we booked the vet for TB and Brucellosis tests - the normal turnaround for the Enferplex test was quoted as 14-21 days, so with a 4-day Christmas break looming, it was going to be tight - and the transport was booked for tuesday 29th. The skin tests and brucella results were negative, and the Enferplex test results came back negative on the 21st - almost there, but you have to have a vet health check within 48 hours of their intended journey on a certificate issued by APHA, and this hadn't arrived by Christmas Eve! At 2.00 I 'phoned APHA and was told it was waiting on a 'SAM' results check - at 4.00 I 'phoned and was told by a different officer that she would do it straight away...the office was due to close at 5.00 for Christmas...so I 'phoned again at 4.45, and was told it would be done...at 5.55 we received an e-mail to say it had been sent to the vet! Credit to the civil servant who was true to her word on Christmas Eve. Meanwhile, Covid 19 had played another trick with it's variants, and the possibility of travel to the EU became doubtful...but the ban only applied to visitors not freight. So the vet carried out her pre-travel check on Bank Holiday monday (yes another 'twist') and so it was that at 7.30 this morning the boys were collected, and at 6.30 this evening I heard that they were grazing on Irish pasture, although I did hear that they (and their fellow travellers) had re-decorated the inside of the van green during the journey!
Well, it's weaning and halter-training next, while tackling the winter and hopefully avoiding the virus - Happy New Year everyone!